Bond
If you are wanting to bond an inmate out of jail we will accept cash, money order, or credit card. Please note however, to use a credit card the transaction must be made through  :
 24 Hours / 7 Days a Week
CALL 1.800.352.9870
You will need the following information:
1. Credit or Debit Card   2. Pike County – IL1426  3. Defendant Name  4. Date of Birth  5. Payment Amount
Phone Services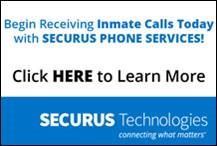 Commissary
Commissary is offered to all inmates weekly that are not under disciplinary restrictions. It is generally passed out to the inmates on Friday's. Inmates will not be allowed to charge commissary. If you wish to deposit monetary funds on an inmate's account, please bring a money order to the Sheriff's Department and place it in the money order box in the lobby,  Monday  (day before Commissary) all monies need to be received before Noon.
These monies have to be received before 9 a.m. (day before Commissary/Thursday)
Visitation
Inmates are allowed two (2) visits per week, each visit counting as a session, visiting week starts on Sunday. If special consideration for a visit is needed, a request form should be filled out and submitted to administration for review.
Visits are a maximum of one (1) hour.
No contact visits allowed.
Co-defendants and persons incarcerated at the Pike County Jail within the last one (1) year are prohibited from visiting without prior written authorization from the Jail Administrator.
Felons are prohibited from visits.
All first time visitors are required to register on the form provided to them. They are to give their full name, address, and date of birth.
Photo Identification (i.e. driver's license) is required at each visit.
Any visitor providing false information such as a name or date of birth will be arrested and charged with Obstruction of Justice (Class 4 Felony).
New inmates (inmates who have not seen the judge) will not be allowed to visit. Visitation will be allowed after the inmate has been seen by a judge.
A visit will be terminated or denied due to the following:

Visitor is believed to be under the influence of alcohol or drugs.
Refusal to obey an officer's order.
Violation of any visitation rule.
Failure to keep children under control or disturbing others.
Providing false information to staff.
Violation of any Federal or State law.
Visitor wearing gang related colors, symbols, etc.
Disciplinary action has been from inmate.

Not wearing proper clothing for jail facility.    (shoulders to knees need to be covered)  (No halters or tank tops permitted)
Visitation Hours are as Follows:
Count

y Inmates

:

Monday           1:30 pm – 5:00 pm                 7:00 pm – 9:00 pm

Wednesday    1:30pm – 5:00pm

Saturday         8:00am – 11:30am                  1:30pm – 5:00pm
Federal Inmates

:

Thursday         1:30pm – 5:00pm                  7:00pm – 10:00pm

Sunday             8:00am – 11:30 am                1:30pm- 5:00pm
Female Inmates

:

Tuesday            7:00pm –  9:00pm

Friday               9:00am – 11:00am                 1:00pm – 4:00pm

*(Inmates assigned to work release by the courts do not receive visitation privileges while incarcerated.)

Attorney / Client Visits

It is recommended that for all Attorney / Client visits  a call to the Correctional staff be made to assure that the Attorney will be able to meet with their clients.  Please Call                              217-285-5263 ,Press 1 for Corrections.      It is not guaranteed that our staff will be available to accommodate walk-ins because of other duties that need to be performed throughout the day.  Your consideration to this policy is appreciated.

(Tuesdays are not available at this time for Attorney/ Client visits)

Thank you

Jail Administrator

Dan Brennecke

PREA:

PREA – Prison Rape Elimination Act

–

PIKE COUNTY SHERIFF'S OFFICE – JAIL DIVISION

The mission of the Pike County Sheriff's Office is to provide a safe, sanitary, and secure place of incarceration.  It is the ethical and legal obligation of the Pike County Jail Division's officers to protect the community by securely holding persons who are determined by the courts to pose a threat to public safety.  It is our goal to return inmates to society in better condition physically and emotionally than when they were committed to our custody.  However, the decision of rehabilitation is a personal decision that can only be made by each individual inmate.

 

PIKE COUNTY SHERIFF'S OFFICE

The Pike County Sheriff's Office has a "ZERO TOLERANCE" policy prohibiting the sexual harassment, sexual abuse or voyeurism of any person in our custody.  Per our policy, if any employee discovers that a person in PCSO custody has been sexually abused or sexually harassed or is at substantial risk of imminent sexual abuse, immediate action must be taken to protect him or her.

The Prison Rape Elimination Act (PREA) establishes a "zero-tolerance" standard against sexual abuse and sexual assault of incarcerated persons. It is Public Law 108-79, signed in September 2003 by President Bush.

In addition, PREA sets a standard that protects the Eighth Amendment rights of Federal and State prisons, jails, lock-ups and juvenile facilities-making the prevention of sexual assault a top priority.  it also increases available data on sexual misconducts and sexual assault.  Furthermore, it increases the accountability for administrators who fail to prevent, reduce, and punish sexual misconduct and sexual assaults.

PIKE COUNTY SHERIFF'S OFFICE COMPLIANCE

It is our policy to comply with all standards within PREA. In accordance with PREA standard 115.11, Pike County Sheriff's Office established a "zero-tolerance" policy for all forms of sexual misconduct, incidents involving inmate-on-inmate sexual violence, and all forms of staff sexual misconduct/harassment toward inmates regardless of consensual status. Sexual assault is not tolerated at the Pike County Sheriff's Office. It is the policy of the Pike County Sheriff's Office Jail Division that sexual abuse by an employee, vendor, contracted agency, volunteer, inmate or other non-organizational member with a business association with the Sheriff's Office, is prohibited. This policy applies to all inmates who are identified as being possible victims of sexual abuse or harassment, have been victimized by sexual abuse, or have been identified as perpetrators of sexual abuse or harassment, as well as persons employed by the Pike County Sheriff's Office, volunteers, independent contractors and those who are involved directly or indirectly, in the care and custody of inmates.

REPORTING

Inmates are encouraged to report all allegations of sexual abuse and/or sexual misconduct immediately. This will allow for the quickest response and investigation. Also, the claim or allegation does not have to come from an inmate; it may come from the members of the public such as a friend, family member or loved one.

Reporting allegations can be made in several ways:

• Report directly to a staff member or via an Inmate Grievance Form.

•     Speak with a Supervisor.
Speak with healthcare staff or submit a Medical Form. • Contacting the Pike County Sheriff's Office. • Inmates can contact a crisis helpline by dialing #885 for free. • Contacting The Women Center, Inc. Crisis Helpline by dialing (800)-334-2094.
PREA – WHAT YOU NEED TO KNOW
DETAIL YOUR COMPLAINT AND MAIL TO:
Pike County Sheriff's Dept.
ATTN: PREA
204 E Adams St
Pittsfield, Il 62363